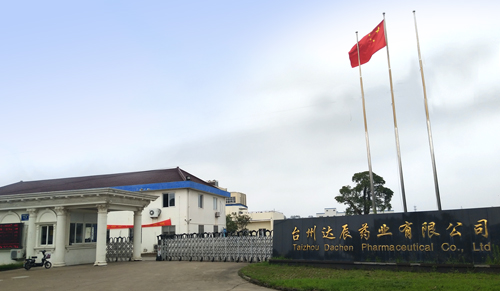 Taizhou Dachen Pharmaceutical Co.,Ltd, located in ZHEJIANG NATIONAL CHEMICAL&PHARMACEUTCIAL BASE of LINHAI ZONE, was established after Zhejiang Shengda Bio-pharm Co., Ltd., Xingxing Co., Ltd. and other companies participated in the strategic restructuring and founded in Nov. 2017. Company is a scientific and technological enterprise designed and constructed as per cGMP requirements that integrate research and manufacture of APIs and intermediates.

Company occupies an area of 80000 sq.m. and had built 40000 sq.m building area in the first phase, including one R&D building, one pilot workshop, five synthesis workshops , one D class clean area, one QC building and warehouses. The second phase plans to construct 22000 sq.m building and will be finished in 2020, including four high-rise workshops, one comprehensive building and one auxiliary building.
Company has 170 employees, including 60 technical staff, 30 of which are senior technical staff. The quality management staff at all levels meet the requirements of GMP qualification and accept regular professional training in related aspects.
Products were mainly sold to Europe, Southeast Asia, South America and other foreign countries, which has been well received by the customers in domestic and abroad.
Company always insists on the business concepts of "Create eternity for health" and "Sincerely cooperate and strive for excellence". Basing on honesty,
innovation and advance with the times, we will sincerely cooperate with you to create a better future for the pharmaceutical industry.